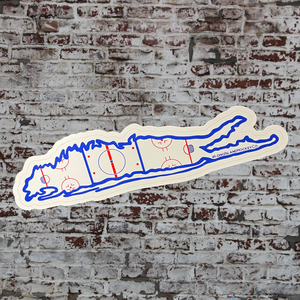 Our LARGE Long Island Hockey Rink sticker is a great way to show your Long Island Hockey pride. Great for cars, computers, water bottles, and more!
Misc:
Click here for our helmet sized sticker.
Check out our Long Island Hockey Co. Rink hoodies to pair with your new sticker!

Team Ordering: Email - LongIslandHockeyCo@gmail.com
Turn Around Time:
In Stock: 2 - 5 days
Out of Stock: Email LongIslandHockeyCo@gmail.com for pre-order options
Product Details: 
7.77" x 3.00" Glossy Die Cut Stickers 

All products created and sold exclusively by Long Island Hockey Co. 

Copyright belongs to Long Island Hockey Co.