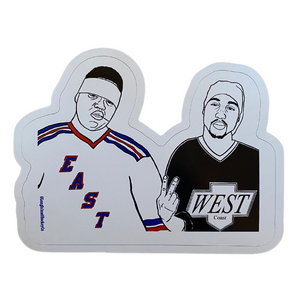 Paying tribute to the King of New York, and the King of Cali, with this design. With a little help from our boy @tommy_greenthumb, we've reimagined the iconic picture of these 2 rap legends.
The East coast West coast beef may have been squashed, but the hockey rivalry is still going strong, fueled by the cup run back in 2014.
Check out our Coast to Coast tees and hoodies to pair with your sticker. 
Product Details: 
All products created and sold exclusively by Long Island Hockey Co. 

Copyright belongs to Long Island Hockey Co.